Sexual harassment is a pervasive and harmful reality that affects millions of workers across the United States. Workplace sexual harassment can take many forms such as, unwelcome sexual advances, requests for sexual favors, and other verbal or physical harassment of a sexual nature. It can also take the form of harassment based on that person's sex, such as offensive remarks about a person's sex in general. The effects of workplace sexual harassment can impact workers' job performance, mental health, and general happiness and security.
Below, we will explore various statistics about sexual harassment in America's workplaces that will reveal the prevalence and seriousness of this issue. By better understanding the data and the different forms of sexual harassment in the workplace, we can foster a workplace culture that respects the rights and dignity of all employees, free from the detrimental effects of sexual harassment.
Table of Contents
Types of Sexual Harassment in the Workplace
Quid Pro Quo
Quid pro quo harassment occurs when a person in a position of power or authority demands sexual favors or engages in unwelcome sexual advances in exchange for employment benefits, promotions, job security, or other favorable treatment in the workplace. The term "quid pro quo" translates to "something for something," illustrating the exploitative nature of this type of harassment. In quid pro quo harassment, the harasser typically holds the power to grant or deny workplace opportunities or advantages, creating a coercive dynamic that leaves the victim feeling pressured, intimidated, or fearful of negative repercussions for refusing or reporting the advances.
Hostile Work Environment
Unlike quid pro quo harassment, which involves explicit demands for sexual favors in exchange for employment benefits, hostile work environment harassment can involve a pattern of ongoing behaviors, comments, or actions that create an atmosphere that is hostile, abusive, or sexually intimidating
31.1% of women reported quid pro quo sexual harassment or sexual harassment creating a hostile work environment
18.9% of men reported quid pro quo sexual harassment or sexual harassment creating a hostile work environment
Who is Most Affected?
Sexual harassment in America affects individuals of all genders, but it disproportionately impacts women.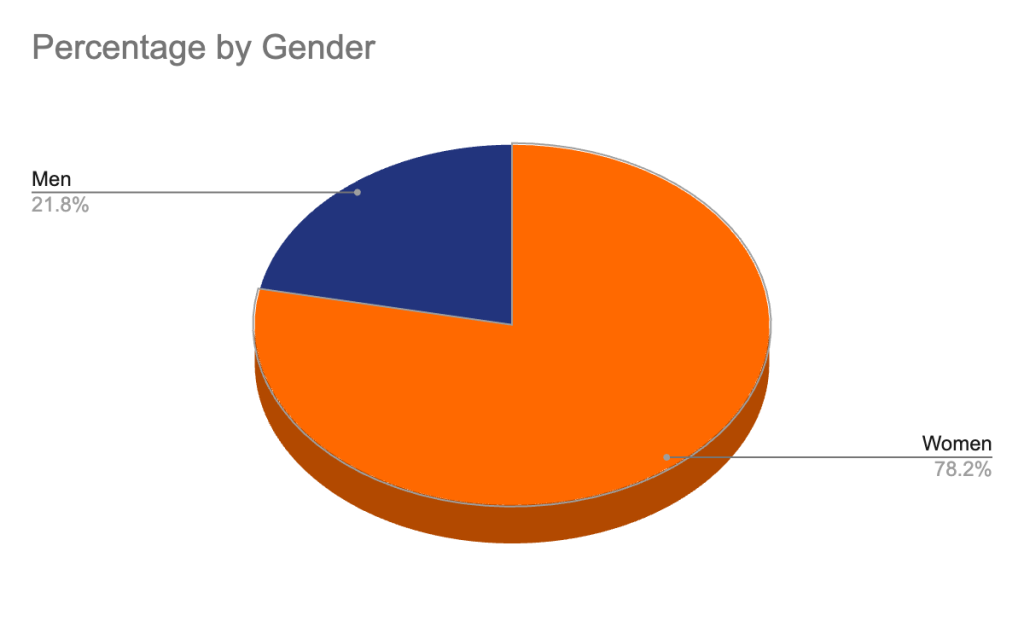 78.2% of sexual harassment charges were filed by women
56% of employed women under 35 say they've been the recipient of unwelcome sexual behavior at work
However, it is essential to recognize that anyone can be a victim of sexual harassment, regardless of their gender identity.
Sexual Harassment in America
The top 5 States that had the most sexual harassment charges from 1997 – 2021 were:
Texas
Florida
New York
Illinois
California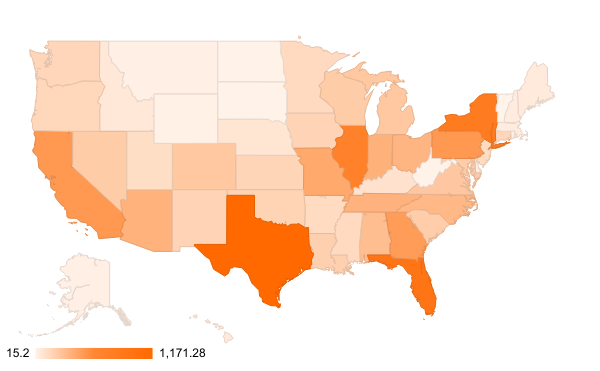 Charges Filed Alleging Sexual Harassment, by State Average 1997 – 2021
1997-2001 Avg.
2002-2006 Avg.
2007-2011 Avg.
2012-2016 Avg.
2017-2021 Avg.
25-Year Avg.
Texas
1,568
1,272
1,167
960
890
1,171
Florida
1,235
889
953
794
787
932
New York
873
748
880
792
799
819
Illinois
931
804
709
563
585
718
California
609
464
512
447
491
505
Pennsylvania
663
519
527
395
415
504
Georgia
583
525
460
404
430
480
Missouri
476
437
405
351
390
412
Indiana
556
450
361
286
202
371
Arizona
445
448
374
312
247
365
Tennessee
418
421
391
303
277
362
Ohio
456
390
351
269
273
348
North Carolina
388
322
376
293
282
332
Alabama
447
284
306
248
215
300
Virginia
278
240
272
243
209
248
Colorado
318
240
250
212
214
247
Michigan
199
266
290
248
230
247
Wisconsin
294
260
207
174
186
224
Nevada
220
242
236
209
212
224
Maryland
286
212
222
202
183
221
South Carolina
270
242
206
181
201
220
Louisiana
281
215
202
154
155
201
Oklahoma
212
211
223
162
104
183
Iowa
227
193
175
158
149
181
New Mexico
217
219
191
153
115
179
Kansas
233
176
173
130
165
175
Washington
234
193
155
135
137
171
Connecticut
212
184
153
132
161
168
Oregon
232
190
149
131
121
165
Minnesota
228
200
137
98
82
149
Mississippi
200
131
137
149
125
149
Arkansas
189
172
138
118
105
144
New Jersey
190
161
131
113
120
143
Utah
156
160
125
119
81
128
Kentucky
132
124
121
95
72
109
Nebraska
133
87
72
69
76
87
Idaho
97
92
57
48
74
Hawaii
83
74
73
49
58
68
Maine
89
71
54
50
42
61
New Hampshire
73
68
41
35
48
53
Massachusetts
110
28
37
42
43
52
Delaware
49
75
56
44
30
51
Rhode Island
54
43
35
30
27
38
Alaska
41
36
35
40
27
36
Montana
46
39
41
21
30
35
Wyoming
37
34
24
22
22
28
South Dakota
28
29
23
17
14
22
North Dakota
17
20
21
29
20
22
West Virginia
39
23
21
12
8
20
Vermont
26
15
14
9
12
15
It's important to note that while these 5 states have the most charges over the 25 year span, they are also the states with the highest civilian labor force. The size of the labor force in a state can have a significant impact on the number of reported charges. Larger labor forces generally mean more people working, which increases the potential for incidents of sexual harassment to occur and be reported. Therefore, it is not surprising that these states, with their larger labor forces, would have a higher number of charges compared to states with smaller labor forces.
States with the Highest Rate of Sexual Harassment
When viewing the 2021 data of total number of charges per 100,000 workers, the top 5 states with the highest rate of sexual harassment charges are:
Nevada, 12.3
Missouri, 11.25
Kansas, 9.40
Iowa, 9.20
Mississippi, 8.55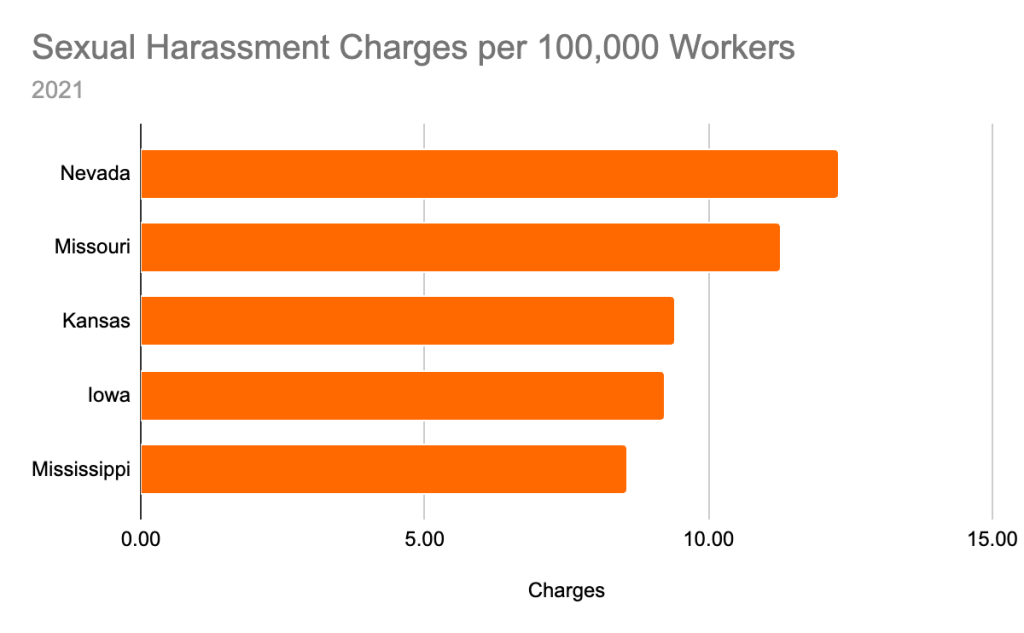 How Many People Experience Workplace Sexual Harassment?
In a 2018 EEOC survey, of the 4,205 responses to the question "Have you personally encountered sexual harassment in the workplace"
17.72% answered "Yes, I have been sexually harassed in the workplace"
18.20% answered "Yes, I have witnessed sexual harassment in the workplace"
15.74% answered "Yes, a family member, friend, or colleague of mine has been sexually harassed in the workplace"
The Problem
Of those who encountered sexual harassment in the workplace, an astounding 55.50% did not report the incident to anyone. This underreporting phenomenon highlights the complex and challenging dynamics surrounding sexual harassment cases. There are various reasons why victims may opt to remain silent, including fear of retaliation, concerns about not being believed or taken seriously, potential damage to their professional reputation, or a lack of trust in the effectiveness of reporting mechanisms. The consequences of this underreporting are profound, as it perpetuates a culture of silence, allowing perpetrators to go unchecked and leaving other employees vulnerable to similar mistreatment.
Fear of Retaliation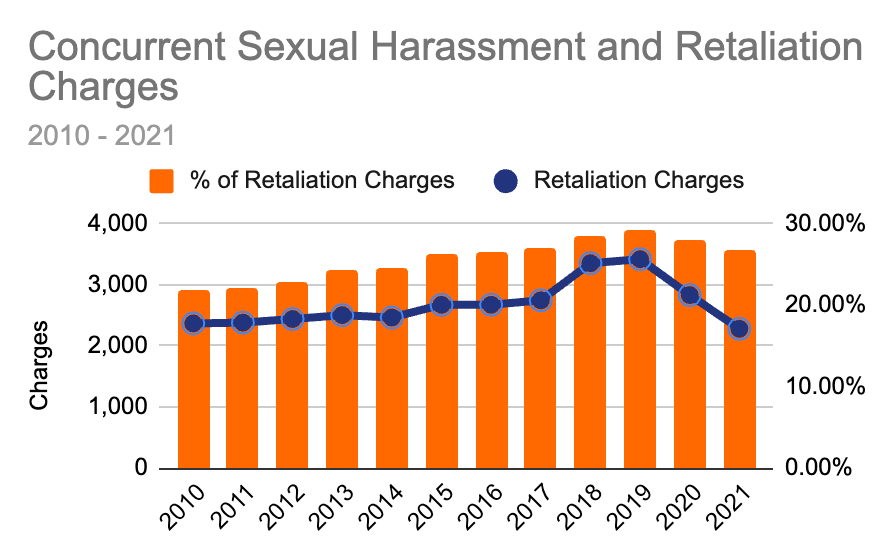 Concurrent sexual harassment and retaliation charges reached a maximum of 3,418 in 2019
Similarly 2019 had the highest percentage of total retaliation charges at 29.17%
From 2010 – 2021 there was an average of 2,677 retaliation charges filed concurrently with sexual harassment charges
Total concurrent sexual harassment and retaliation charges from 2010-2021 was 32,120
Employees who have experienced sexual harassment may fear that if they report the incident, their professional reputation will be tarnished, and they will face negative consequences from their colleagues, supervisors, or employers. Retaliation can take various forms, including adverse employment actions such as demotion, termination, unfavorable job assignments, ostracization, or even blacklisting within the industry. Fear of retaliation is a significant barrier that often deters individuals from reporting incidents of sexual harassment in the workplace.
Sexual Harassment Costs
Sexual harassment in the workplace carries significant costs that extend beyond the immediate experiences of the victims. It can have detrimental effects on both the mental health and work performance of those involved, as well as impose substantial monetary burdens on individuals and organizations.
The impact on mental health is profound. Victims of sexual harassment often experience a range of emotional and psychological consequences, including anxiety, depression, post-traumatic stress disorder (PTSD), and decreased self-esteem. In terms of work performance, sexual harassment can severely disrupt an individual's ability to focus, engage, and thrive in their professional responsibilities. Victims may experience heightened stress levels, which can impair decision-making, reduce creativity, and impede effective collaboration with colleagues.
How Much Do Sexual Harassment Cases Cost?
There are some significant monetary costs associated with sexual harassment as well, secured through administrative enforcement as a form of resolution. These various forms of relief include actual cash relief for charging parties or other aggrieved individuals such as restored pay, compensatory damages, punitive and liquidated damages, and other items such as attorney's fees, fringe benefits, and training or tuition costs.  There is also prospective relief that may be included that is associated with the resolution of the charge including hiring, reinstatement, recall or other actions that result in employment for the charging party or aggrieved individuals, as well as promotions and prospective fringe benefits.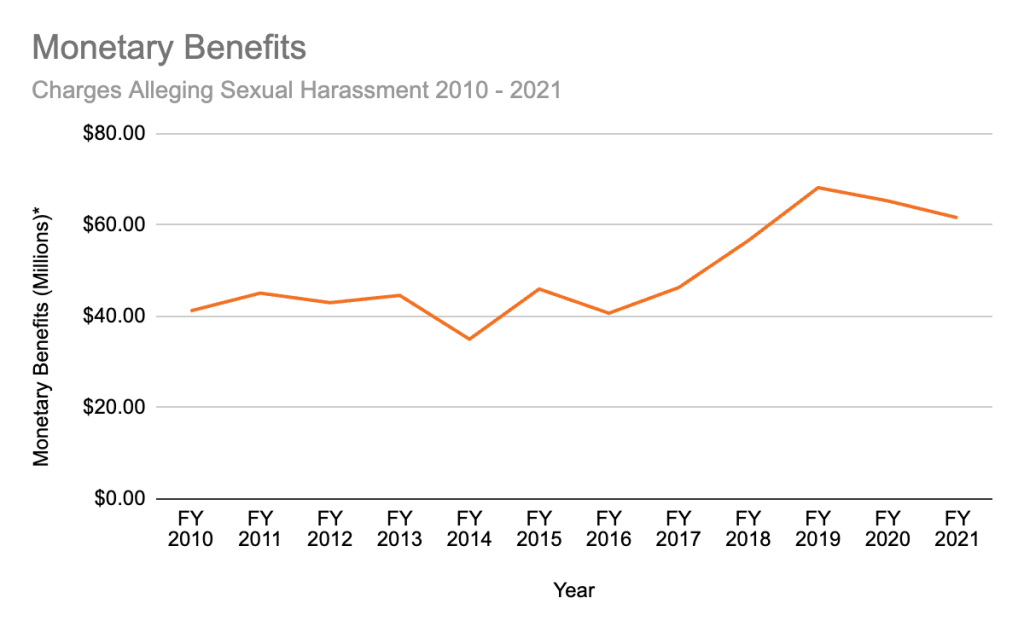 The average monetary benefits from 2010 – 2021 was: $49,470,000
There was a 49.5% of increase in monetary benefits from 2010 – 2021
In 2019, monetary benefits peaked at $68,200,000
How Much Are Sexual Harassment Settlements Worth?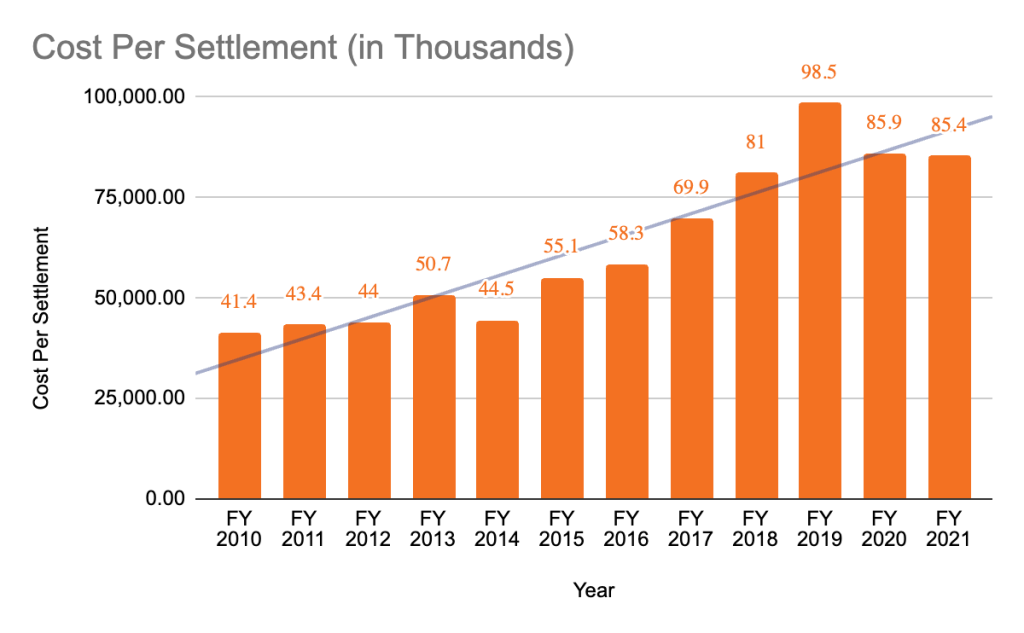 The average cost per settlement from 2010 – 2021 was $63,208.49
2019 had the highest cost per settlement at $98,554.91
It is important to note that individual settlement amounts can vary significantly based on the specific details and severity of each case. Settlements may cover various expenses, including compensatory damages, attorney's fees, and other associated costs. This data underscores the substantial financial impact that sexual harassment claims can have on organizations and emphasizes the importance of proactive measures to prevent such incidents and foster a safe and respectful work environment.
Sexual Harassment Laws
Title VII of the Civil Rights Act of 1964 is a federal law that prohibits employment discrimination based on race, color, religion, sex, and national origin. While sexual harassment is not explicitly mentioned in the text of Title VII, it has been widely recognized that sexual harassment falls under the prohibition of sex discrimination.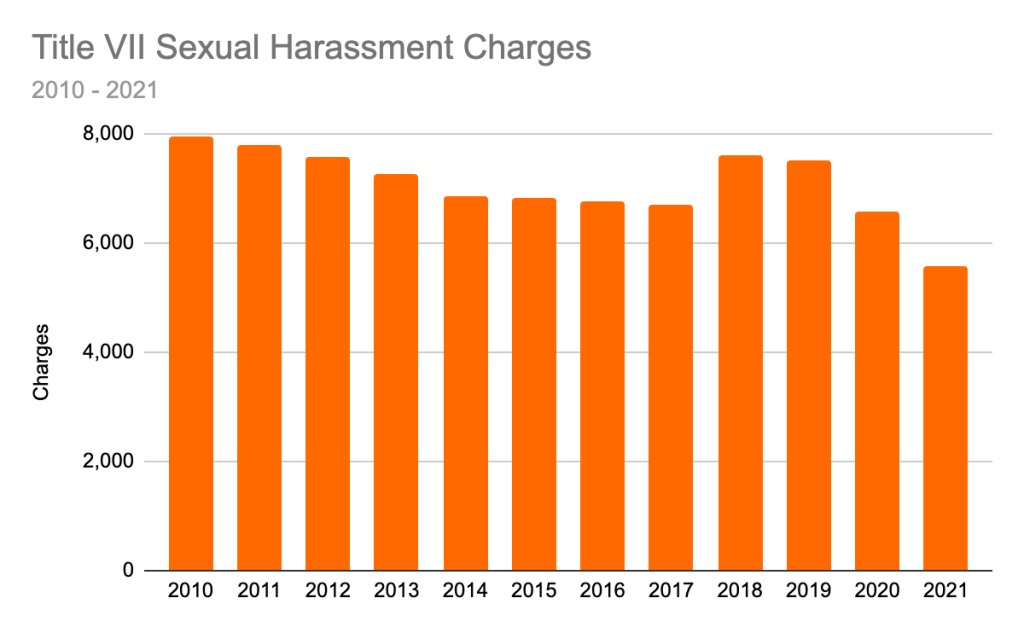 There was a total of 85,009 Title VII sexual harassment charges from 2010 – 2021
Average 7,084 Title VII sexual harassment charges from 2010 – 2021
Under Title VII, employers are obligated to maintain a workplace that is free from sexual harassment. This means employers must take reasonable steps to prevent and promptly address incidents of sexual harassment, including establishing clear policies, providing training to employees, and implementing reporting and investigation procedures. Title VII also prohibits retaliation against individuals who report sexual harassment or participate in investigations related to such complaints.
Sexual Harassment Resolutions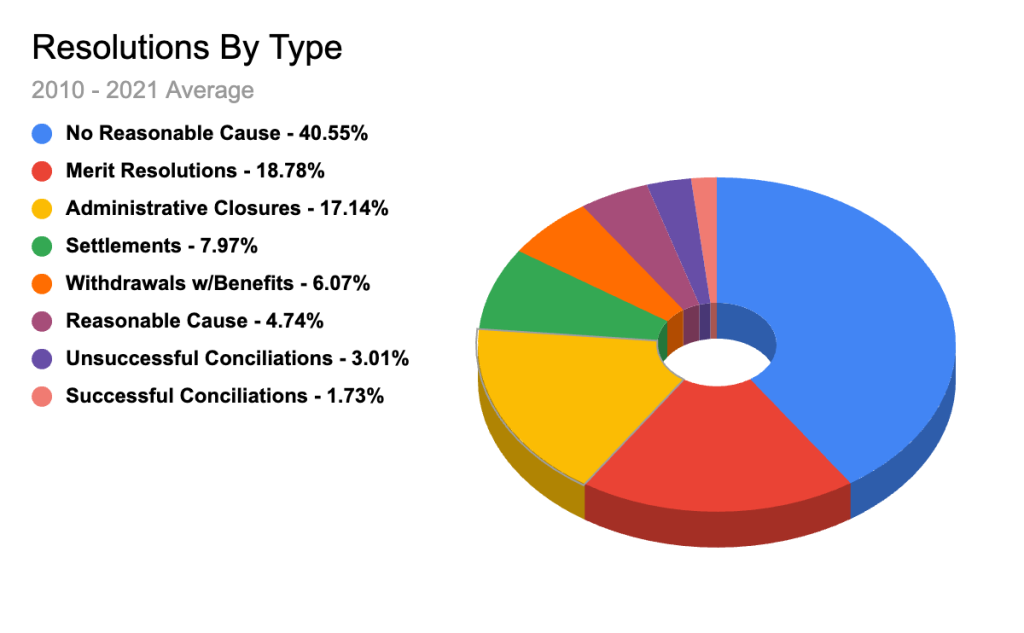 No Reasonable Cause
40.55%
EEOC's determination not to proceed further with its investigation.
Merit Resolutions
18.78% Average from
Charge resolved with an outcome favorable to charging party or charge with meritorious allegations.
Administrative Closure
17.14%
Charge closed for administrative reasons without a determination based on the merits, which include: lack of jurisdiction due to untimeliness, insufficient number of employees, or lack of employment relationship; charging party requests withdrawal without receiving benefits; or charging party requests the notice of right to sue.
Negotiated Settlements
7.97%
Charge settled during investigation with benefits to charging party.
Withdrawal with Benefits
6.07%
Charge is withdrawn, at the request of charging party, who will receive benefits through a separate agreement with the employer.
Reasonable Cause
4.74%
EEOC's determination based upon the evidence obtained in the investigation that it believes discrimination did occur. Reasonable cause determinations are followed by efforts to conciliate the discriminatory issues which gave rise to the initial charge.
Unsuccessful Conciliation
3.01%
Charge with reasonable cause determination closed after failure to resolve the charge through voluntary efforts.  Because "reasonable cause" has been found, this resolution is considered a merit resolution.
Successful Conciliation
1.73%
Charge with reasonable cause determination closed after resolution of the charge through voluntary efforts, whereby EEOC is a party to the agreement.
Methodology
In this study, we recorded, analyzed, and graphed workplace sexual harassment data across a range of categories from the years 1997 through 2021. Our data was provided by the Equal Employment Opportunity Commission.
Sources